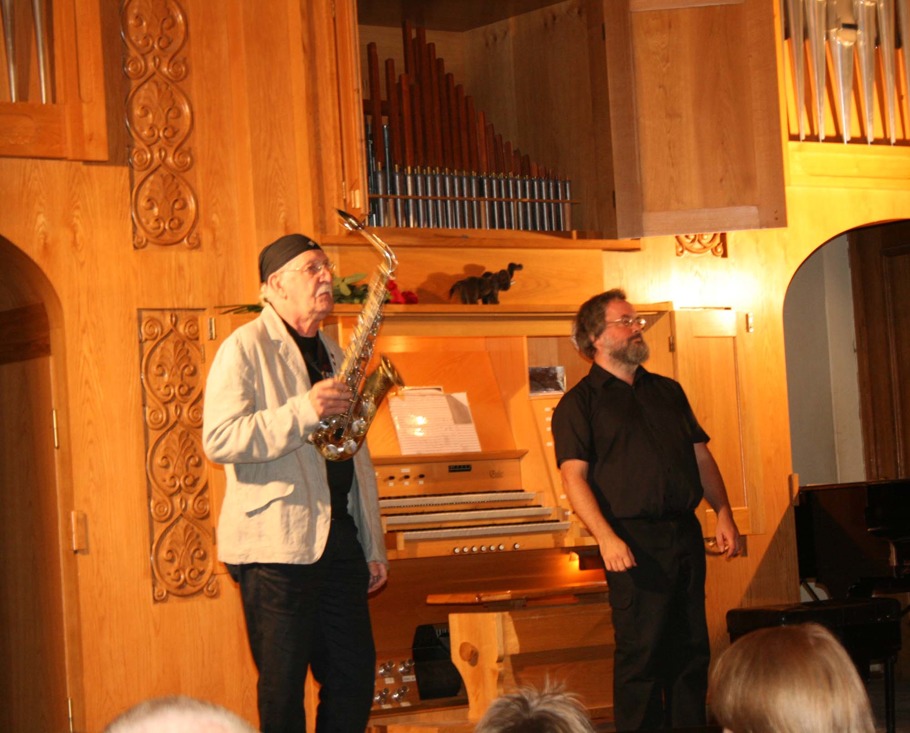 The Lewin-Landgren Duo has toured together for more than 20 years, and has a wide experience from the international concert scene from california in the west to siberia in the east. Our repertoire consists, to the major part, of music by duke Ellington and billy Strayhorn. We play in big venues, cathedrals and concert halls as well as in smaller venues; as a duo, a trio or in collaboration with other ensembles and choirs.
Churches and smaller venues
Most of our concerts have been performed in churches, where we have used the ordinary pipe organ in place. However, due to various circumstances, we also have brought with us a digital instrument to be able to play in concert venues where there are no suitable organs available.
The photo: The jazz festival "Jazz i Svaben" Sweden, 2007.
Large stages and concert venues
We have played in larger venues as a duo, trio, quartet and as soloists together with wind ensembles and big bands.
On these occasions most of the repertoire was composed by Duke Ellington and Billy Strayhorn (often in special arrangements by some of Sweden's most distinguished arrangers).
The photo: From the "Gothenburg Culture Festival" on the stage of the big square "Götaplatsen" in the year of 2006, together with Pierre Swärd (Hammond organ) and Jon-Erik Björänge (drums).
Collaboration with choirs
We also have the possibility to provide arrangements for mixed choir and soprano soloist, with music from a.o. Duke Ellington's "Sacred Concerts".
The photo: Concert together with the choir "Meero nortekoor" in Jaani Church, Tallinn, Estonia, 2011.
Concerts 2022
Sweden
July 28 Lund "Lewin Landgren Duo" Allhelgona Church (Concert at 19,00) May 8 Höganäs " I have a Dream" Kristihimmelsfärds Church
May 7 Kalmar "Lewin Landgren Duo" Kalmar Cathedral
March 20 Björketorp "I Have a Dream" Björketorp Church
March 19 Skövde "I Have a Drean" Skövde Church
Feb 1 Göreborg "I Have a Dream" Annedal Church

Concerts 2021
Sweden
Aug 19 Stockholm Bromma Church

Concerts 2019
Sweden
February 03 Stockholm ST: Göran Church
April 02 Kungsbacka Släp Church (lunch concert)
August 15 Varberg Värö Church (Concert at 18,00)
October 05 Oxelösund Oxelösund Church
November 24 Göteborg Högsbo Church

International
September 23 Russia Tjeljabinsk (Seventh festival "Jazz & Pipeorgan")
September 24 Russia Tjeljabinsk (Seventh festival "Jazz & Pipeorgan")
September 25 Russia Tjeljabinsk (Seventh festival "Jazz & Pipeorgan")
September 26 Russia Tjeljabinsk (Seventh festival "Jazz & Pipeorgan")
September 27 Russia Tjeljabinsk (Seventh festival "Jazz & Pipeorgan")
September 28 Russia Tjeljabinsk (Seventh festival "Jazz & Pipeorgan")

Concerts 2018
Sweden
February 25 Osby Osby Church (Concert at 16,00)
March 30 Avesta Avesta Church (Concert at 14,00)
April 21 Varnhem Varnhem Monastery Church
April 22 Skövde Horns Church
August 26 Kristineham Kristinehamn Church (Concert at 18,00)
October 19 Kristianstad Kristianstad Church
October 27 Jönköping Mission Church (Concert at 18,00)
October 28 Mölndal Stensjö Church

International
August 09 Germany Memorial Church Berlin
August 10 Germany Gransee Church Gransee
September 26 Russia Tjeljabinsk (Sixth festival "Jazz & Pipeorgan")
September 27 Russia Tjeljabinsk (Sixth festival "Jazz & Pipeorgan")
September 28 Russia Tjeljabinsk (Sixth festival "Jazz & Pipeorgan")
September 29 Russia Tjeljabinsk (Sixth festival "Jazz & Pipeorgan")

Concerts 2017
Sweden
June 24 Ulricehamn Timmele Church
July 1 Gothenburg Gothenburg Cathedral (Lunch concert)
July 1 Stockholm Västerhaninge Church (Concert at 19,00)
July 4 Hudiksvall Forsa Church (Concert at 19,30)
July 5 Östersund Östersund Church (Lunch concert)
July 6 Luleå Nederluleå Church
July 7 Arjeplog Arjeplog Church
July 8 Lycksele Lycksele Church
August 10 Varberg Värö Church
August 27 Gothenburg Allhelgona Church Kortedala (Concert at 19,00)
September 17 Gothenburg Backa Church
October 8 Mölndal Stensjö Church
October 24 Göteborg Betlehems Church (Pease Concert at. 19,00)

International
September 27 Russia Tjeljabinsk (Fifth festival "Jazz & Pipeorgan")
September 28 Russia Tjeljabinsk (Fifth festival "Jazz & Pipeorgan")
September 29 Russia Tjeljabinsk (Fifth festival "Jazz & Pipeorgan")
September 30 Russia Tjeljabinsk (Fifth festival "Jazz & Pipeorgan")