ABOUT JOHANNES LANDGREN

JOHANNES LANDGREN was born in Lapponia (the north part of Sweden) in 1961. He began his studies at the School of Music and Musicology at the Gothenburg University in 1980. In 1985 he got his degree in Church Music, in 1987 he received his soloist diploma in organ repertoire and organ improvisation, in 1990 he finished his studies in choir pedagogy, and in May 1997 he presented his Ph D dissertation on Petr Eben´s organ music.
As organist and conductor he has toured in many countries in Europe and made a number of CD-recordings and broadcast recordings both in Sweden and abroad. As a conductor and organist Johannes has toured around most of Europe and other parts of the world, with great success. He has participated in many international competitions and festivals. A.o. he did win three prestigious awards in the Prague Days of Choral singing in 1994: His chamber choir "Varbergs kammarkör" was awarded with the first prize in the chamber choir competition, the "Grand Prix" for the entire competition and Johannes himself was awarded as the best conductor of the competition. He has, as conductor and organist, made recordings for radio and television in Sweden, Belgium, Ireland, the Czech Republic, Germany, Denmark, Finland and Estonia. He has also made more than thirty CD recordings, including renaissance, baroque and contemporary music. The CD:s have achieved splendid reviews and one of the biggest newspapers in Sweden also awarded one of the CD:s the title "recording of the year". At present Johannes Landgren Professor of Organ and Pro Vice-Chancellor at the Royal College of Music in Stockholm and he performs frequently all over the world.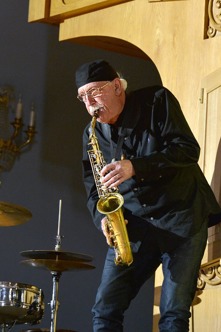 ABOUT HÅKAN LEWIN

Håkan Lewin is an alto saxophonist who transcends genres, with his expression firmly rooted in jazz.
Håkan and the organist Johannes Landgren have with their music enjoyed great success both in Europe and the US. In 2005 Håkan and Johannes were part of founding the organization "Music Against Violence". The organization ran autumn 2013 the project "Gaza Singing for Peace", with two concerts in Gaza City. 2007 Håkan was the recipient of the Christer Boustedt Award one of the most prestigious jazz awards in Sweden. In 2009 Lewin-Landgren Duo was collaborate with Sandviken Big Band and in the year 2009, 2010 and 2016 also with the Gothenburg Wind Orchestra in special arrangements on Duke Ellington music.
Håkan and Johannes participated in the festival "Jazz and Pipe organ" in Chelyabinsk, Russia in 2004, 2005, 2007 and 2016. 2005 visited the duo also the concert halls in Ekaterinburg and Samara, Russia.
Håkan together with the Estonian pianist Aldo Meristo, produced 2014 a project called "Twenty years later". The music in this project is partially composed by Lewin and Meristo and where they besides bass and drums, also used a string quartet from the Estonian Symphony Orchestra.
In spring 1994 they toured to Argentina and played at various festivals.
During the 80th and 90th Håkan played as lead saxophonist in "Sandviken Big Band and in the legendary "Gugge Hedrenius Big Blues Band". The bands toured on numerous occasions in the United States and in much of Europe.
1987 Håkan was Sweden's representative in the "European Radio Union Orchestra". The orchestra, this year was located in Amiens, France. Håkan played also on numerous occasions in the "Swedish Radio Jazz Group".
Håkan has during the years played with many international stars such as Benny Bailey, Sahib Shihab, Thad Jones, Clark Terry and for many years the Ellington-trumpet player Willie Cook.
Press release
The Gothenburg duo Håkan Lewin and Johannes Landgren has toured around the world for 20 years with their unique music for alto saxophone and pipe organ. Their concerts reflect upon the situation in the world today and their concerts are vibrating with encouraging visions and deep emotions. The music also manifests a message of non violence. With Duke Ellington's music as the central point of departure. Lewin and Landgren have performed for packed audiences in the US, Russia, Germany, Denmark, Norway, Finland, Estonia, Croatia, Portugal, Gaza (Palestine) and Sweden.
Press Cutting Duo
Simply staggering; beautiful! Hudiksvalls Tidning. Too good to title!!! Novi List Croatia.
Divine sounds under the church arch! This evening Landgren and Lewin really showed what you can accomplish with a pipe organ and a saxophone. Heavenly music! New Åland, Finland.
An exciting orgy in rhythms, sounds and melodies. Sometimes lively, sometimes sentimental.
Tønsbergs Blad Norway. Lewin/Landgren made a magnificent concert in a crowded "Igreja São Luis dos Franceses". Juventude Musical Portuguesa Lisboa Portugal. The two Swedes were the "highlights" of the festival. Evening Chelyabinsk Russia. The concert on October 4th in the Concert hall of Yekaterinenburg, where the hall was completely sould out (800 listeners), was concluded with standing ovations and a warm "welcome back".
Samara's beautiful concert hall was packed and all tickets were sold out, which gave an audience of 1000 listeners. There was a tension of curiosity and a high level och expectancy on how the Swedish duo, which played jazz music on pipe organ and saxophone, should sound. The title of the concert was "From classic to Jazz", which also indicated that the two parts of the concert both were initiated with music by J S Bach. Then the duo, with the help of Patricia Willard's presentations, showed a musical path from folk music in a mellow jazz tone over to Ellington and music with influences from the roots of blues and jazz. The acclaim was enormous and the concert was a veritable success.
After the award ceremony Håkan and Johannes presented music, filled with strong and deep emotions. The music was mainly composed by Duke Ellington. Håkan's flaming saxophone sound was combined with organ sounds from Landgren; sounds of gracefulness and richness. The two musicians almost made the concert hall (the old stable) "creak". The final tune, "Lotus Blossom", brought strong emotions and even tears among the listeners - a clear sign of the beauty of the musical performance Sundsvalls Tidning, Sweden.
Summer Tour 2017.
Some voices from the audience:
"Just wanted to write a few lines and thank you so much again for a fantastic concert today in Västerhaninge Church. It was truly amazingly beautiful. Both compassionate and emotional. I was really touched in the depths and if you're a music lover, it's all in my mind and heart ".
"A BIG AND WARM THANK YOU for sharing your talent and musicality! Enjoyed the yesterdays concert and were also touched by tears."
"Awesome concert in Arjeplogs church!"
Press cutting Trio
The music reviewer of the news magazine IKON 1931, Lennart Olausson, listed Håkan Lewin's and Johannes Landgren's concert in "Sofiakyrkan" in Jönköping as one of the 5 best concerts, all categories, during 2011.
IKON 1931. The Swedish musicians; Johannes Landgren organ, Håkan Lewin saxophone and Jon-Erik Björänge drums, opened this year's festival with their magnificent interpretations of Ellington's music.
Through them the message of love overwhelmed the audience.
Evening Chelyabinsk Russia. Johannes Landgren organ, Håkan Lewin alto saxophone and Jon-Erik Björänge drums, showed to be unrestrained, fullblooded musicians who made Ellington's music shine in competition with the play of lights over the church archs and the church walls. One truly great moment was the instrumental "Lotus Blossom", where Landgren made use of the mighty pipe organ from the organ loft, while Lewin's saxophone sent out music like flashlights from the front of the church Östersunds-Posten. Above all, the title "Lotus Blossom", composed by Duke Ellington's good friend Billy Strayhorn, offered this "extra addition" where Johannes made use of the great organ and Håkan provided, in a subtle way, a truly great moment Länstidningen. A unique blend of Church organ, Saxophone, and Hammond Organ! Håkan Lewin has arranged some Negro Spirituals for a solo instrument and organ (pipe organ or Hammond). Six of them are published in this score book and can be heard on the CD Freedom – The Vision interpreted by three instruments: a sax, a Hammond organ and a church organ. Three outstanding musicians, Johannes Landgren, Hakan Lewin, and Kjeld Lauritsen prove that even in a more traditional setting Jazz can provide a spiritual punch! Very interesting arrangements of Negro Spirituals combining these three instruments. Sheet music is also available! Christian Jazz Worship – USA
The arrangements have been made with an ear to the meaning of the mostly familiar words. Audiophile Audition USA
A flow of musical/rhythmical peaks! De Bergske Blade Denmark. Spirituals, played in a way which goes beyond anything that I have heard before. For organ freaks this is an absolute must! And for all others: This is a recording with some of the most loved and well known titles from the great heritage of Afro American Spirituals. The sound is also excellent!
Vejle Amts Folkeblad Denmark. Well known Afro American Spirituals and some jazz ballads are performed through skillfully written arrangements. Just to mention the "extremely groovy" "He´s got the whole world in his hand" - here in a 5/4 bar with ostinato bass-line. Also to be mentioned: "Rainbow reflection", which starts with fast moving scales in the improvisatory style of much North German Baroque music (so called "Stylus Fantasticus style"), transforms into a french romantic toccata and then leads into the idiom of jazz music. Hard not to love this. To sum it up: Brilliant!
KMT (Kyrkomusikernas tidning)
Press cuttin Choir, Big orchestra.
A great solo on the drums (with variations in tempo) by the percussionist Jon-Erik Björänge, the organ (with it's exciting sounds and chords) the somewhat more cheerful saxophone and the choir (in which the voices give colour and transparency to the room) form an impressive start of this magical concert. The feeling of happiness and joy fills the listeners when one tune after the other fill the room with the sound of shining pearls. Jönköpings Posten.
This evening the church Teleborgskyrkan invited us to a musical highlight with Duke Ellingtons Sacred concerts.
The church, packed with a great audience, fully enjoyed the music, performed byJohannes Landgren (organ and piano) Håkan Lewin (alto saxophone) the choir "Växjö Vocalis" and the lead singer, soprano Cecilia Alrikson. This ensemble created a musical highligt of ultimate professional quality and class! Växjöbladet Kronobergaren.
The question is if not the musical highlight of the evening was the musical transitions of "Caravan", where Johannes Landgren on his organ started and then was followed in an elegant way by the Sandviken Big Band drummer Rolf Andersson. After a drum solo the saxophone player Håkan Lewin entered. This was a part of the concert which was simply wonderful. A great jazz evening! Gefle dagblad. Sandviken Big Band has for four decades been an amazing musical greenhouse for talents and skillful musicians. Many well known musicians have started their career in Sandviken Big Band. One of the main principles for this band has been to invite soloists and arrangers from many different places. Åke Björänge, the present band leader, sticks to this tradition. On the double CD "In The Name Of Freedom" the guests are Håkan Lewin (alto saxophone) and Johannes Landgren (organ).Håkan's name is well known among the jazz audience and, of course, his solos does not leave anyone disappointed. The CD contains 13 titles (with Håkan as the soloist on twelve of these titles). All music is composed by Ellington or derived from the Ellington sphere of musicians/jazz composers. Skånskan